This is an archived article and the information in the article may be outdated. Please look at the time stamp on the story to see when it was last updated.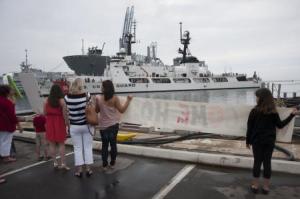 SAN DIEGO — The Coast Guard Cutter Boutwell returned to San Diego Thursday following a two-month Eastern Pacific deployment during which it captured narcotics traffickers and rescued eight fishermen adrift in disabled vessels.
The 378-foot ship docked at its harbor homeport in the early afternoon.
While patrolling international waters off the coast of Central America on Dec. 30, the Boutwell came across three drug smugglers heading north toward land in a speedboat, according to USCG public affairs.
Upon sighting the approaching cutter, the trio began jettisoning bales of contraband while making a failed attempt to escape. After a brief chase, crews captured the vessel and the suspects, and recovered 1,375 pounds of cocaine.
The Boutwell's personnel performed the maritime rescues during separate search-and-recovery operations.
The first occurred about 100 nautical miles off the coast of Panama. Four fishermen who had been adrift for two weeks were found in their disabled vessel, surviving on their catch, bait and rainwater. They were transferred to a Panamanian patrol boat the following day.
The second rescue occurred about 140 nautical miles southwest of El Salvador. The stranded fishing crew, which had been floating helplessly for seven days, was transferred to officials in that Central American country.
The 45-year-old Boutwell and its crew of about 170 primarily conduct counter-narcotics missions in the Eastern Pacific, and fisheries enforcement and search-and-rescue in the Bering Sea, according to the Coast Guard.
The cutter was named for former U.S. Treasury Secretary George Boutwell, who also served as the 20th governor of Massachusetts, and as a senator and a representative from that state.