This is an archived article and the information in the article may be outdated. Please look at the time stamp on the story to see when it was last updated.
SAN DIEGO — Junipero Serra High School football coaches were under investigation after a picture of them in Halloween costumes with blackfaces was posted on Facebook.
Head football coach Brian Basteyns and assistant coach Harold Seeley are seen with their faces painted black to look like members of a Jamaican bobsled team, made famous in the movie "Cool Runnings."  Coach Chris Herrin is also seen in the picture, but his face was not painted.
The picture was removed from Facebook after concerned parent Sally Smith saw it.  She is calling for Basteyns to be fired.
"I was shocked," Smith said.  "This is just the tip of the iceberg.  This behavior of dressing in blackface shows disrespect and poor judgment."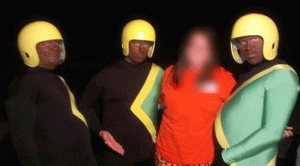 San Diego Unified School Board of Education John Evans learned about the photo Tuesday morning and confirmed an investigation is underway.
"We hold our staff to high standards in the community and the investigation would look more closely into what happened and what the circumstances were," Evans said.
Students said the coaches were on campus for class and practice during school Tuesday.
Football players said they hope the coaches will be able to stay on playing the field with the team.
"I understand they are held to high expectations, but I think they were just fooling around.  They weren't making any racial comments. They were just dressing up," said freshman player Josh Garcia.
"We just took it as a joke, but some took it very seriously, and then some people didn't think of it at all," sophmore football player Malcolm Gibson said.