This is an archived article and the information in the article may be outdated. Please look at the time stamp on the story to see when it was last updated.
LEMON GROVE, Calif. – Child sex trafficking is a fast-growing problem and the FBI identified San Diego as a "high intensity child prostitution area."
Community leaders in Lemon Grove gathered for a screening of a local documentary on the child sex trade.
"I'm like anyone else – I really didn't know what was going on out there.  But once you dig a little deeper, you see the tragedy and the horror that's happening," said Jim Ellis, a Lemon Grove resident who produced "Indoctrinated: The Grooming of Our Children Into Prostitution."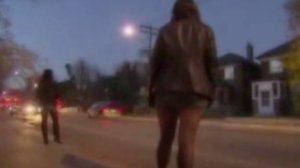 Around 100,000 teens in the U.S. become sex trafficking victims every year.  Ellis' 33 minute film uses the powerful stories of survivors as a warning and explains how young girls are enticed into slavery as pimps hunt for girls and indoctrinate them into the lifestyle.
"By supposedly filling their needs for shelter, love and affection – but really using them for their own good," Ellis said.
Soroptimist International of Lemon Grove organized the screening for members of law enforcement and educators.
"To help them become aware that this isn't just something that happens to other people's kids – that it can happen to kids in our community," said Jennifer Mendoza, a Soroptimist board member.
Vista La Mesa Academy principal Yolanda Rogers said she wanted to see the film to be better aware of what her students could be exposed to.
"If I can empower myself with more knowledge – to share that with my students — you never know who's vulnerable," said Rogers.
Ellis said the purpose of his film is to have teens watch with their parents and get them talking.
"So that they can be a united team in this fight – that the parents can know what's going on and the teens can be warned about what's out there," he said.
The documentary is available online.