This is an archived article and the information in the article may be outdated. Please look at the time stamp on the story to see when it was last updated.
SAN DIEGO – More than 100 disabled veterans are in San Diego this week to participate in sports they never thought they could do.
Thanks to funding from the Veterans Affairs, generous sponsors and hundreds of volunteers around 105 vets will try surfing, sailing, kayaking, rowing, cycling, archery and track & field during the week-long National Veterans Summer Sports Clinic.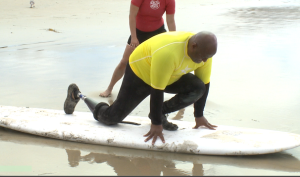 Surfing was just a dream for many of the wounded and after Monday, their dream came true.
Air Force veteran Frank Johnson has made huge strides since his leg was amputated last year.  Now this adaptive sports program is helping him coast even further.
"[Surfing] is something I never thought I'd be able to do, but I did it," Johnson said. "I never thought surfing would be possible. At one point I never thought walking would be possible."
It's no surprise the activities have lasting benefits for the vets with serious physical injuries, but they also help heal wounds like post-traumatic stress disorder and traumatic brain injury.
"It gets them socializing again. It gets them active," National Veterans Summer Sports Clinic's Mike Molina said. "It gets them out of the house and involved particularly with veterans who are in the same situation that they are."
Johnson won't be surfing when he gets back home to Philadelphia, but he said Monday's lessons are already going a long way.
"There are times when you feel like not living is easier, but when you can do something as amazing as this you realize that life isn't over," Johnson said. "It's just beginning."