This is an archived article and the information in the article may be outdated. Please look at the time stamp on the story to see when it was last updated.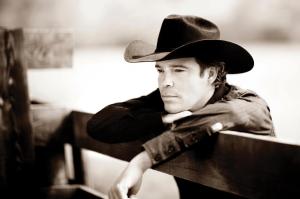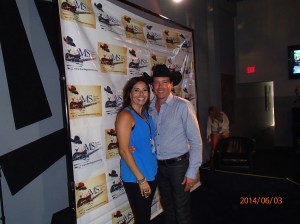 NASHVILLE-For someone who doesn't drink alcohol on stage, Clay Walker sure has some dance moves.  He swayed his hips and serenaded a crowd of fans for nearly two hours at his 5th annual Chords of Hope charity event in Nashville June 3rd.  The event helps raise money to find a cure for multiple sclerosis, a disease Clay has lived with for nearly two decades.
"The original diagnosis was grim, I went from being told I'd be in a wheelchair in four years and possibly dead in eight to now I'm living a life full of vitality, strength, courage and blessings," Clay told me backstage.
I reported live and did live broadcasts from behind the scenes for Mountain Country 107.9 FM in Alpine.  I host a weekly country music show in San Diego County every Tuesday, and thanks to simple technology I broadcasted live from Music City!
Here's my little work studio….table…a computer…and a cell phone with a mic :)
Clay has beaten the odds thanks to a healthy lifestyle and positive thinking.
Dustin Lynch and Montgomery Gentry opened the show bringing about two hundred fans to their feet at music venue 3rd and Lindsley.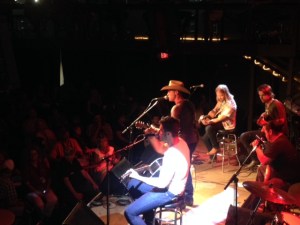 "I've been in Nashville since 2003," said Dustin.  "I would come here to 3rd and Lindsley once a week.  I've never had a chance to get on stage here until right now."
Montgomery Gentry took the stage sending it in high gear….fast.  The duo came out shouting, "It's all about the party! Ya'll ready to sing?"  And with that they sang their hits including "Where I Come From" and "My Town."
"Clay has been our buddy forever," said Eddie Montgomery.  "This is why it's the greatest country in the world.  We always try to help our neighbor."
"That's what's great about the country music industry," added Troy Gentry.  "Everyone is willing to help each other and has each other's back when we need it."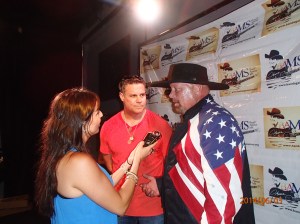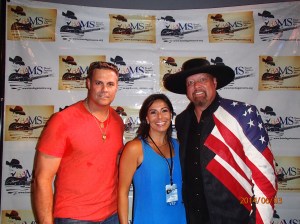 When Clay took the stage, the crowd was fired up.  He sang all of his greatest hits, and he peppered in some new ones too.
"Songs are like memories," he said.  "They take me to those special places."
The money raised from silent auction items and ticket sales will go to Vanderbilt University and a team there that's researching a cure for MS.
For updates and more on Clay Walker's effort to battle MS and his upcoming charity event in California follow me on twitter @countrynewsgal.