This is an archived article and the information in the article may be outdated. Please look at the time stamp on the story to see when it was last updated.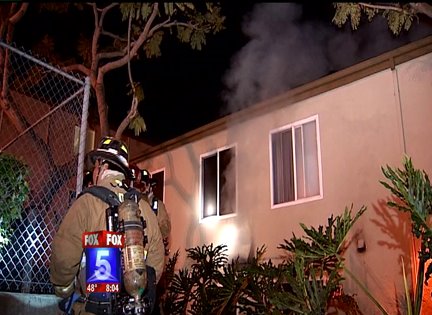 SAN DIEGO – Clairemont's Sheaupyng Hsu was fast asleep early Tuesday morning when a loud noise awoke her.
"I'm thinking what the heck," said Hsu.
Her 16 year old daughter was yelling at the top of her lungs.
"I was like mom there's cops.  You need to get up now, grab what you need because we need to go," said Gabrielle Atkins.
Gabrielle then ran to her 13 year old sister's bedroom and did the same thing.
"I was kind of freaking out," said Lucy Atkins.  "I didn't really know what to do, but my sister kind of took care of everything."
Many of the residents of the Stratton apartment complex on the 3800 block of Caminito Aguilar were able to make it out safely, but the girls and their mom were still inside.
"I tried to get them out," said neighbor John Nolan.  "The fire took over the whole section of the apartments probably in five minutes."
"I go to front door, open up, it's fire, smoke already come this way," said Hsu.
So she slammed the door shut and looked for another way out.
Officer Zach Bradley of the San Diego Police Department was one of the first to arrive at the burning building and ran around the back to see if anyone needed help.   When he looked up, he saw movement in one of the second story windows.
"While I was back there, a couple of girls were banging on the window, and I told them to jump," said Bradley.
"I was unsure of jumping because I was afraid he wasn't going to catch me," said Lucy.  "I thought I was going to hit the ground or something."
But her older sister Gabrielle knew time was running out and told her to close eyes and then pushed her out the window.  Officer Bradley caught her.
Mom followed Lucy and Gabrielle was the last to jump.
They all made it out safely, but were taken to the hospital for smoke inhalation and minor burns.  The girl's mother sprained her ankle when she jumped out of the building, but all three are happy to be alive.
Firefighters put out the flames within 30 minutes and said a neighbor on the first floor sparked the fire while cooking French fries.