This is an archived article and the information in the article may be outdated. Please look at the time stamp on the story to see when it was last updated.
SAN DIEGO – A longtime city employee will file a sexual harassment lawsuit against San Diego Mayor Bob Filner Monday, claiming he put her in a headlock.
According to the claim against the City of San Diego, Filner placed Stacy McKenzie in a headlock with his right arm rubbing her breast and his left hand rubbing her left arm.  He proceeded to make comments "demonstrating the battery was for his sexual gratification."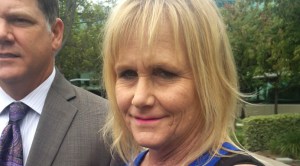 McKenzie, 52, told KOGO-Radio station Monday that Filner asked for her business contact information and to meet for lunch – not a business lunch, but to go on a date with him.  She said she walked away from him and approached two of her city employees to tell them what had happened.
Filner approached her a second time placing her in the headlock and telling the other employees that McKenzie should be "employee of the day," the accuser said in the radio interview.
The claim, represented by McKenzie's lawyer Daniel Gilleon, reported the incident took place at the Clairemont Day at the Bay event at Mission Bay on April 21.  More than 300 people, including families and city employees attended the event.
McKenzie is seeking damages of $500,000.
Eighteen women have publicly come forward claiming unwanted advances from Filner.