This is an archived article and the information in the article may be outdated. Please look at the time stamp on the story to see when it was last updated.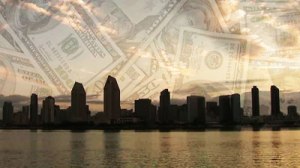 SAN DIEGO — A jury Friday awarded more than $7.6 million in damages to a Mission Hills attorney who was rendered a paraplegic when a giant palm tree fell on him outside his home, crushing his legs.
Michael Burke suffered paralysis of the lower half of his body on Jan, 21, 2010, when the 60-foot, 2,600-pound, Queen Palm toppled following a four- day storm.
Burke sued the city of San Diego, claiming it was responsible for the accident because it had cut back on yearly inspections and maintenance of trees due to budget constraints.
On Monday, the jury agreed and today awarded Burke and his wife, Edith, millions of dollars in lost earnings and medical expenses.
Outside court, Burke thanked the jury for finding the city liable.
"I sincerely hope that this will help bring about a restoration of tree- trimming inspections in San Diego and Mission Hills and in other parts of San Diego, and hopefully help this from happening to anybody else," Burke told reporters. "Nobody else has to go through what my family and I have had to go through."
In the trial's first phase, jurors found that the Queen Palm was in a "dangerous condition" when it fell on Burke.
The jury also found that the city had notice of the tree's condition with enough time to do something about it.
City attorneys told the jury that the tree toppling was an "act of God" that could not have been foreseen. They said the city never received complaints about the condition of the tree before it fell.