This is an archived article and the information in the article may be outdated. Please look at the time stamp on the story to see when it was last updated.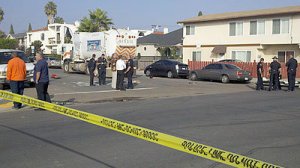 SAN DIEGO — The City Council Tuesday signed off on an $18.5 million legal settlement for a North Park boy who lost his legs after being hit by a city of San Diego trash truck.
San Diego police said Luke Acuna, then 9, was riding a skateboard along Meade Avenue when the northbound truck hit him at Kansas Street on Nov. 17, 2011.
The child fell under the trash truck and was crushed by the undercarriage. The boy's left leg was amputated, and he suffered internal injuries and broken bones.
The boy's attorney alleged the driver of the garbage truck made a dangerous and illegal turn near an elementary school and struck the boy as he entered a crosswalk.
The settlement was hammered out in May, and the City Council tentatively approved it in closed session one month later. The final approval came without comment on the council's consent agenda.
Luke is recovering but will have to deal with medical problems for the rest of his life, according to news reports.