This is an archived article and the information in the article may be outdated. Please look at the time stamp on the story to see when it was last updated.
SAN DIEGO — A nearly $1.2 million settlement in which San Diego will pay legal costs for three former San Diego pension board members was approved Tuesdayby the City Council.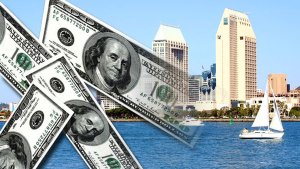 The deal will reimburse Cathy Lexin, Terri Webster and Ron Saathoff for their legal defense after they were charged in state and federal cases with trading pension board votes for better retirement packages.
They served on the board in 2002 when votes were taken that resulted in the pension system being underfunded.
The state case was later dropped, while the federal charges were thrown out of court.
The three former board members subsequently sued the city in 2011, saying a City Council resolution promised to indemnify them in case they were sued. The city claimed the council resolution only applied to civil litigation, but the argument failed on appeal.
According to city documents, Lexin will receive nearly $550,000, Webster will get almost $428,000 and Saathoff $205,000 under the settlement, which was approved without comment by the council members.
Lexin is now a human resources consultant, while Webster is a senior management analyst with the city of Chula Vista, according to their LinkedIn profiles. Saathoff runs the pension department for the International Association of Firefighters.
Because of the underfunding and other fiscal woes, the SDCERS had a deficit of $2.2 billion as of June 30 last year, the date of the most recent actuarial valuation.