This is an archived article and the information in the article may be outdated. Please look at the time stamp on the story to see when it was last updated.
SAN DIEGO — The city of San Diego is preparing to install sensors that will extend green lights at eight intersections for approaching bicyclists, according to a presentation made Wednesday to the City Council's Land Use and Housing Committee.
A city staff report says the microwave detectors will be installed in about six months, at a cost of $25,000 per intersection, funded with a grant from the San Diego Association of Governments.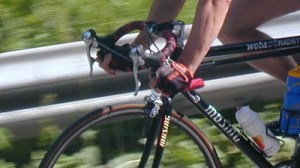 Councilman David Alvarez, an avid bicyclist, said he doesn't like it when vehicles can make lights stay green but bikes cannot.
"Sometimes you have to get off your bike, or like ride your bike onto the sidewalk to push the crosswalk button or otherwise the light won't turn green," said Alvarez, who rides his bicycle to work. "There are some signals that will not turn green unless you do that."
Committee Chairwoman Lorie Zapf called the sensors a "terrific" idea.
The eight intersections listed in the staff report are Sorrento Valley Boulevard and Vista Sorrento Parkway; Regents Road and Genesee Avenue; Regent Road and La Jolla Boulevard; Pacific Highway and Sea World Drive; Park and El Cajon boulevards; Park Boulevard and Robinson Street; University Avenue and 58th Street; and Ash Street and Pacific Highway.
The City Council recently approved a program to improve bicycle safety and infrastructure.
The program's components also include:
highlighting "conflict zones," where cars turn right through bike lanes, by painting the pavement green;
creating markings for bicyclists and vehicles to share space on roadways too narrow for bike lanes;
installing bike racks; and
coordinating with street resurfacing plans so that bike lanes and other improvements can be included.
The city is also helping to organize a social event Aug. 11 in which part of 30th Street in North Park will be closed to vehicle traffic and turned over to bicyclists.
In a separate action, the committee unanimously approved a partnership with Deco Bike LLC to establish a 10-year citywide bike rental program.
If approved by the full City Council, the company would set up at an estimated 180 rental stations, with at least 1,800 available bikes.
Prospective riders could rent on a one-time basis or join a membership program. Revenue would also be collected by advertising displays on the bicycles and rental stations.