This is an archived article and the information in the article may be outdated. Please look at the time stamp on the story to see when it was last updated.
SAN DIEGO – The City of San Diego reached a $1.2 million settlement with some of the victims of former San Diego police officer Anthony Arevalos, who was sentenced to over eight years for multiple counts of assault, battery and bribery.
The former cop was convicted of preying on young women and at least one man in the Gaslamp District, trading leniency for sexual favors from 2009 – 2011.  Talia Tortora, 27, was one of the first or 12 victims to come forward.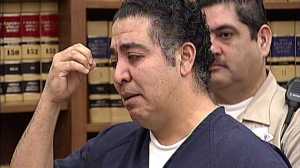 She was with her friend Lacy White the night Arevalos pulled her over and insisted on driving the two girls home.
"This was someone that we thought was there to protect us – when actually he's someone we should be protected from," she said from her attorney's office Tuesday.
Tortora recalled her fear as officer Arevalos forced his way inside her home.
"How am I going to get his man in a uniform with a gun out of my house?" said Tortora.
Tortora was not assaulted, but was among 11 others who were victims of Arevalos' actions.
Attorney Dan Gilleon represents the eight victims in the civil lawsuit against the city paying out about $1.2 million. The bulk of the settlement will go to a woman identified as Melisa W, she received $675,000 due to the severity of the assault.
Gilleon said abuse of power is rampant in the police force and he blames those at the top for looking the other way.
"Things won't change until the city starts paying a lot of money in settlements and it really angers the people who elected them," he said.