This is an archived article and the information in the article may be outdated. Please look at the time stamp on the story to see when it was last updated.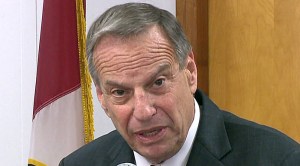 SAN DIEGO – The city attorney's office may seek a restraining order to bar Mayor Bob Filner from City Hall because his presence allegedly creates a hostile working environment for women.
"It is a possibility as a last resort," Michael Giorgino, interim communications director for City Atty. Jan Goldsmith, said Friday.
Goldsmith, in several media interviews, has predicted that Filner's ouster as mayor will occur, with the only question being when and by what method.
A recall drive is set to begin Sunday.
Goldsmith has found a section of the City Charter that he believes could lead to Filner's removal from office.
All nine City Council members have called on the mayor to resign.
Of the 16 women who have accused Filner of sexual harassment, three are city employees: Irene McCormack Jackson, who has filed a lawsuit; a woman identified only as Stacy; and Peggy Shannon, who works part-time for the senior citizens services desk in the lobby of City Hall.
Shannon, 67, appeared at a news conference Thursday with Los Angeles attorney Gloria Allred.
The mayor's repeated sexual advances and comments, Shannon said tearfully, had left her shaken and afraid. Allred said Friday that she would join Goldsmith if he decides to seek a court order keeping Filner away from City Hall.
Read more at latimes.com