This is an archived article and the information in the article may be outdated. Please look at the time stamp on the story to see when it was last updated.
SAN DIEGO – The City Council voted unanimously Tuesday to make it easier for San Diego restaurants to create space for outdoor dining.
The item was a package of 55 land-use amendments designed to streamline the permitting process and clarify regulations, said Amanda Lee, a planner in the Development Services Department.
Restaurant owners complained that the process of putting in sidewalk cafes was too expensive and time-consuming, so it wouldn't pencil out despite customer demand.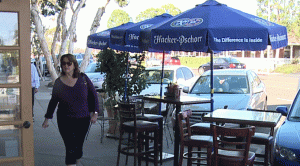 "This came about because we're here in San Diego, lots of sunshine, and I know my family — most families I've heard from — like to dine outside," Councilwoman Lorie Zapf said.
The proposal overcame opposition from residents of several communities, especially Pacific Beach, who expressed concerns about increasing crowds, noise and problems fueled by alcohol consumption.
"We can't punish the whole city because of something going on in PB," Zapf said.
Lee said restrictions already in place for specific neighborhoods, including Pacific Beach, would supercede the new ordinance.
The new rules cut the permit cost from $4,000-$6,000 or more to $1,200, and the processing time from several months to one month, according to Lee. An annual city inspection will cost $123 per hour, she said.
A single row of tables within 4 feet 6 inches of an eatery would be allowed, as long as a clear 5-foot-wide path of travel on the sidewalk is maintained. The community planning groups could establish a wider path.
Within that 5-foot or wider space, a straight visual corridor at least 3 feet wide would have to be maintained.
No barrier, like an expensive wrought-iron fence, would be required by the city, though state regulators might require one if alcohol is to be served.