This is an archived article and the information in the article may be outdated. Please look at the time stamp on the story to see when it was last updated.
SAN DIEGO – San Diego's interim mayor and mayor-elect spoke Tuesday about the search for a new police chief.
Interim Mayor Todd Gloria and Mayor-Elect Kevin Faulconer offered their thanks to Chief William Lansdowne for his service. They also shared their vision for the search for a new chief.
"The decision was the chiefs and the chiefs alone," said Faulconer, when asked if he requested the Chief's resignation in light of recent officer misconduct allegations within the department.
Faulconer said he did not ask Lansdowne to step down. He said Lansdowne contacted him last night about his intention to resign.
"Chief Lansdowne has had a stellar career, 50 years of law enforcement," said Faulconer. "He has been on the cutting edge of helping this city, of helping our neighborhoods, of helping this department through some very difficult times."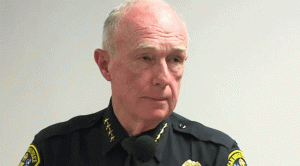 Interim Mayor Gloria called the retirement "disappointing." He said he had extreme confidence in Lansdowne.
"I'd hope that he'd help us navigate this current situation with the allegations of officer misconduct," said Gloria. "I was hoping that we could rely on his 50 years of experience to help get us through this. In the end it's his decision and so we'll move on without him, but we are a better city because of Bill Lansdowne."
Faulconer said he is currently working to fill the seat in the interim.
"I'll be moving forward expeditiously on what I think is in the best interest of this department in terms of consistency, in terms of clear rules of the road and in terms of leadership," said Faulconer.
Faulconer would not say what process he plans to take in choosing a new chief.
Gloria said he hopes the search process will be similar to how the city hired Lansdowne.
"It is my hope that a national search that includes significant community input will be performed to select the next police chief," Gloria said. "The City Council and I stand ready to help the Mayor-Elect ensure the San Diego Police Department has stable leadership and continues to be America's Finest."