This is an archived article and the information in the article may be outdated. Please look at the time stamp on the story to see when it was last updated.
SAN DIEGO— The city is cracking down on prostitution in Hotel Circle. Owners of the Howard Johnson at 1631 Hotel Circle South agreed to pay the City of San Diego $21,000 as part of a settlement.
There was "a lot of prostitution related activity occurring at this hotel," Deputy City Attorney Nicole Pedone said. "What was particularly concerning is that it was happening over a short period of time."
There were 18 prostitution arrests at the hotel during a one-year period,  including one human trafficking incident that involved a minor.
The hotel isn't responsible for what guests do, but the city attorney's office says management and the owners could have done more to stop it.
Until recently, guests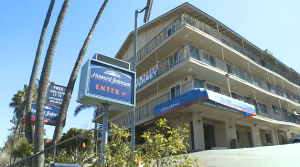 weren't required to give ID, they could pay in cash and rent rooms for short periods of time.
Pedone said, "it is particularly concerning because a resident or guests may come to stay in a hotel in Mission Valley thinking: 'this is going to be fine, this is in a great area, I don't need to worry.'"
Court records show the hotel owner, Hemant Chhartrala, is cooperating.
As part of a settlement, the hotel hired a security guard, installed more lighting, and additional security cameras.
If guests pay cash, they will have to leave a deposit and Chhartrala agreed to repay the city for the investigation.
However, that still wasn't enough for tourists like Dina Torres.
"I'm actually thinking about going in there and seeing if I can cancel and go somewhere else," Torres said before leaving the hotel.