This is an archived article and the information in the article may be outdated. Please look at the time stamp on the story to see when it was last updated.
SAN DIEGO — The City Council Monday asked the City Attorney's Office to draft regulations for medical marijuana dispensaries that would be similar to an ordinance rescinded two years ago.
Councilwoman Marti Emerald proposed that the 2011 law be used as a template, with some revisions and redefinitions of various issues.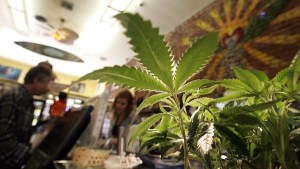 Medical marijuana advocates considered the original ordinance to be too strict, and collected enough signatures to get it overturned.
Emerald, a strong supporter of "compassionate use" of marijuana, said constituents in the new Ninth District she represents are against the addition of more storefront dispensaries.
"Because there are so many kids in the community, and we are struggling with drug and alcohol abuse, gangs and crime — and we want to protect our kids," Emerald said.
Emerald said she would take "a conservative approach" of where those establishments should be located.
The City Council's direction would allow far fewer dispensaries than would have been allowed by Mayor Bob Filner.
The 2011 law only allowed dispensaries in industrial, and a few commercial zones. Filner wanted them allowed in all commercial zones, too.
Emerald also asked for buffer zones between dispensaries and sensitive land uses like schools to be extended from Filner's proposal of 600 feet to 1,000 feet.
Filner's plan to place a 2 percent excise tax on wholesale purchases by dispensaries failed to garner support among the council members.
However, City Attorney Jan Goldsmith said his staff would study a range of options for the city to recover its regulatory costs. Goldsmith said when he returns with a proposed ordinance, he would provide a series of policy options for the council to decide.
Council members suggested Goldsmith also look into Filner's proposal to ban marijuana vending machines, and to possibly place a cap on the number of dispensaries that could be located in a given area.
While the council voted unanimously to provide the direction to Goldsmith, they did not give him a deadline.
Returning dispensaries to legal status has been a major priority for Filner since he took office in December.
Filner said his proposals offered a "balance" between providing "humanitarian access" and protecting the public.
"So on the one hand, we would like to provide access," Filner said. "On the other hand, we don't want to impose on neighborhoods and we certainly don't want to endanger our children."
In January, Filner, City Council and Goldsmith agreed to continue enforcing zoning violations by medical marijuana dispensaries while an ordinance is developed.
In a memo, Goldsmith said the Neighborhood Code Compliance Department has not referred any cases to his office since the agreement was reached. During that time, at least 20 dispensaries have opened illegally, he said.
Emerald asked the mayor's office to order the new dispensaries to close until a new law is adopted.
The council's direction came after three hours of public comment.
—— Story by James R. Riffel of City News Service