This is an archived article and the information in the article may be outdated. Please look at the time stamp on the story to see when it was last updated.
SAN DIEGO — The City Council Monday gave initial approval to citywide parking restrictions on oversized vehicles like campers and trailers, but it could be several months to a year before the city can fully implement the program.
The ordinance is in response to numerous homeowner complaints that big vehicles block views and create traffic hazards when left along curbsides in residential neighborhoods.
C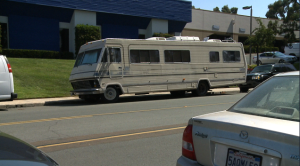 ouncilman Kevin Faulconer, who spearheaded the effort to pass the restrictions, said vehicles that are too big for neighborhoods cause public safety, quality of life and environmental problems.
"Currently, we have vehicles that are parked in front of homes and businesses for weeks at a time, taking up valuable parking spaces for small businesses, blocking views and limiting access to driveways and alleys, which will present major pedestrian problems," Faulconer said.
The ordinance bans the parking of oversized vehicles between 2 and 6 a.m., and within 50 feet of an intersection at any time. Exceptions would be made for deliveries and school buses, and residents could apply for permits for recreational vehicles to park for 24 hours, giving owners time to load and unload for trips.
The City Council passed the ordinance on a 6-2 vote, with council members David Alvarez and Sherri Lightner dissenting, and Marti Emerald absent.
A companion item failed to pass. It would have limited the restrictions to certain beach communities — where the problem is most acute — so the impacts could be studied before going citywide.
Council members and city staff said the implementation timeline was uncertain, but would be long, primarily because the restrictions need to be reviewed by the California Coastal Commission before they take effect in coastal areas.
The council declined to implement the restrictions in the rest of the city before the commission takes action, since that could temporarily make the parking problem in beach areas worse.
Members of the public who opposed the restrictions told the council the ordinance was an unfair imposition on RV users, who have few locations where they can park or store their vehicles.
City staff expects initial upfront costs to be reimbursed later by permit fees and payments for citations.