This is an archived article and the information in the article may be outdated. Please look at the time stamp on the story to see when it was last updated.
SAN DIEGO – The San Diego City Council next week will consider authorizing payments to former Mayor Bob Filner's lawyers, and to a victim of ex-police Officer Anthony Arevalos, who demanded sexual favors of women he pulled over while on the job, city documents show.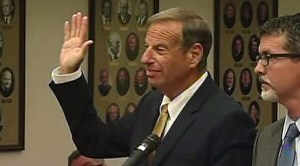 As part of the arrangement that led Filner to leave office Aug. 30, the city agreed to pay up to $98,000 of his legal fees incurred up to that point.
Filner hired San Diego lawyer Harvey Berger after he was accused of sexual harassment in July.
Later, when he and the city were sued by his former communications director, Irene McCormack Jackson, he hired attorney James Payne of Irvine.
The McCormack Jackson lawsuit is still pending.
She alleges Filner told her she should work without her panties on, that he wanted to see her naked, and that he could not wait to consummate their relationship.
Filner also allegedly demanded kisses from McCormack Jackson and put his arm around the former reporter and dragged her along in a headlock while making sexual remarks.
It's possible others among the 20 or so alleged sexual harassment victims could sue.
The agreement that resulted in Filner's resignation also called for the City Attorney's Office to defend him in civil litigation.
In a criminal case, the ex-mayor pleaded guilty in October to one felony count of false imprisonment by violence and two misdemeanor counts of battery and was sentenced to three years of probation.
A much larger sum — $795,000 — is set to go to a woman identified as "Jane Roe," who accused Arevalos of assaulting her in the back of a car while she was being arrested on suspicion of drunken driving in February 2010.
Her lawsuit was one of 10 against the city involving the ex-cop, who was sentenced to almost nine years in prison for demanding sexual favors from women he pulled over for DUI violations in the Gaslamp Quarter.
The woman's settlement, approved in September by U.S. Magistrate Judge William Gallo, is the largest of $2.3 million the city has agreed to pay out to victims.
A lawsuit from one Arevalos victim remains unresolved.