This is an archived article and the information in the article may be outdated. Please look at the time stamp on the story to see when it was last updated.
SAN DIEGO – San Diego Mayor Bob Filner was at it again with the City Attorney's Office and this time the employee at the center of the feud is speaking out.
Filner and Executive Assistant City Attorney Andrew Jones got into a confrontation during a closed session meeting Tuesday. Filner accused Jones of leaking prior closed session information.
"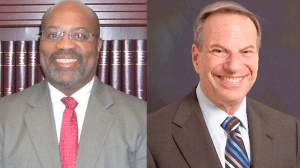 Absolutely a bald-faced lie," Jones told Fox5 Friday. "I'm tired of this mayor abusing people and I'm tired of him abusing me."
Tuesday's meeting wasn't public, but Fox 5 obtained a transcript of the incident between Filner and Jones.
At the beginning of the meeting Filner asked, "And what is Mr. Jones doing up here? … Are you going to leak anything from this meeting, since you have in the past?"
"I'm not even going to answer that," Jones responded.
Jones told Fox 5 the incident stems from another argument with the mayor several months ago.
"During a confrontation we were having, a discussion, he told me to go sit in the back of the room," said Jones.
Jones did speak about that incident publicly, but said what he discussed did not violate the closed session rules.
"That has nothing to do with practicing law," said Jones. "That has nothing to do with anything that was noticed in closed session. There's nothing privileged about that. I have every right to discuss that with anybody I want."
During the meeting Tuesday, Filner persisted saying, "I'm asking you to leave the meeting because you have violated the rules of the closed session."
Jones refused to leave. Shortly after, Filner ordered a police detective to escort Jones out calling him "disruptive."
"The mayor should not be bullying people. Period," Jones said Friday. "He should not be using his office unlawfully. He had absolutely no right to throw me out of that room. I had every right to be there."
This argument aside, Jones believes Filner could have an even bigger impact on the city through his actions.
"That's the risk is that city business is not going to get done, because the mayor for some reason wants to bully me or the City Attorney," said Jones. "The citizens of San Diego shouldn't stand for. No one should stand for it."
Fox 5 tried repeatedly to get Filner's response to this story, but his office told us: "The mayor is not available."