This is an archived article and the information in the article may be outdated. Please look at the time stamp on the story to see when it was last updated.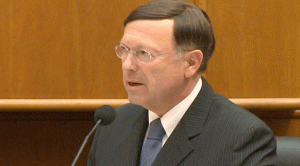 SAN DIEGO — City Attorney Jan Goldsmith Tuesday proposed a comprehensive overhaul of San Diego's City Charter, which serves as the constitution for municipal government.
Goldsmith described the charter's provisions as "a mess" and a "mishmash" in comments to the City Council.
"Frankly, there's a lot of holes in it, there's vagueness, there's ambiguity," Goldsmith said.
As an example, he said that while one of the council's main functions is to negotiate with city employee labor unions, the City Charter fails to outline procedures.
He proposed a series of steps for city officials to take, beginning with a legal analysis of the charter sections that need to be reviewed and the establishment of a Charter Review Commission before the end of January.
Proposed amendments would then go to a public vote for approval. Goldsmith said he wants amendments identified as being of high-priority to go to a public vote in November 2014 and other changes to go on the ballot in 2016.
However, the public could vote on charter amendments as early as June, because City Clerk Elizabeth Maland has already suggested changes that would allow more time between primary and runoff elections, and would set a specific date for inaugurations.
"As we have delved into this effort, we have uncovered many other areas of the charter that are in need of reform, and agree with the city attorney that a more comprehensive effort is needed," Councilwoman Sherri Lightner said.
Goldsmith said the proposed amendments will be publicly vetted by the review commission before heading to the ballot, he said.
Among other things, the charter fails to address what to do if a mayor or city attorney becomes incapacitated and can no longer perform their duties, he said. He said provisions on appointments to commissions and boards are incomplete and parts of the elections process are inconsistent with state law.