This is an archived article and the information in the article may be outdated. Please look at the time stamp on the story to see when it was last updated.
SAN DIEGO — In the wake of allegations of sexual harassment at City Hall, San Diego Mayor Bob Filner will not meet alone with women in the course of his duties, City Attorney Jan Goldsmith told Fox 5.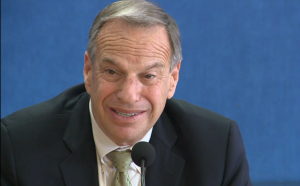 Filner is being sued by his former director of communications, Irene McCormack Jackson. Her lawsuit alleges that the mayor made degrading and humiliating sexual comments to her, demanded kisses and tried to physically force himself on her.
The city has taken some temporary steps in response to the allegations, Goldsmith said.
"At my request, the mayor is not to meet with women alone at city facilities," Goldsmith said. "That was agreed to by his lawyer, and it is being enforced by the chief of staff, deputy chief of staff. The chief of police is also aware of that and has made certain commitments."
The city has a zero-tolerance policy on sexual harassment and is required by law to protect its employees when harassment is alleged, even before anything has been proven, Goldsmith said. In many cases, an employee would be placed on administrative leave during the investigation, but that can't happen in Filner's case, he said.
"You can't place the mayor on administrative leave. The law doesn't allow that," Goldsmith said. "So what you want to do is separate folks."
The arrangement is for everyone's protection, including the mayor's, Goldsmith said. The steps do not imply culpability on anyone's part. The mayor's office has cooperated with the restrictions, he said.
Goldsmith said his office will defend the city, while Filner is represented by lawyer Harvey Berger.
Filner will be able to ask the City Council to reimburse his personal legal expenses. On the other hand, the city can file a cross-complaint seeking reimbursement from Filner if the municipal government has to pay damages when the lawsuit is resolved, Goldsmith said.
Goldsmith acknowledged that he and Filner have had a difficult relationship over the last seven months, but he said that he and his office are dealing with the lawsuit in a purely professional manner.
"I don't like the word feud and all that," he said.  "It's always been about getting him to follow the law, consult with us and to treat people civilly. It's never been about politics or personal."