This is an archived article and the information in the article may be outdated. Please look at the time stamp on the story to see when it was last updated.
SAN DIEGO – The recently formed San Diego City Committee on Infrastructure is developing a five year plan to streamline the number of structural and road issues that need addressed up and down the city, including potholes.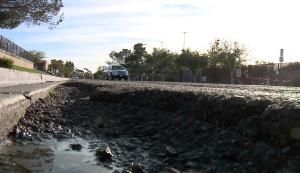 "Infrastructure is the biggest single issue that's facing the city, and it's the one thing we get the most complaints about," said San Diego City Councilman Mark Kersey, chair of the new committee.
The city receives reports of an average of 30,000 potholes every year.
Neighbors along Beryl Street in Pacific Beach showed FOX 5 one pothole they said has become a permanent resident.
"It's been here for at least a couple years. You practically need a high profile SUV to get through it," said Larry Emlaw. "It's something that needs to be addressed."
"It's a huge problem, and we can't do it all at once," said Kersey, who explained the city is just now starting to repair roads that should have been fixed years ago. "There just wasn't enough money."
Last year, city officials approved the use of $100 million in bonds to pay for infrastructure repairs, but even all that money isn't enough to pay for the needed improvements.
Kersey said the total price tag for infrastructure repairs in San Diego is well over $1 billion. City crews are doing their best to keep up, with potholes being high on their priority list.
If you have a pothole in your neighborhood city officials want you to report it online and avoid trying to cover it up yourself.
"It's a first come first serve process. The city has to fix these, so get it reported, get it in there and the city will fix it within a week," said Kersey.