This is an archived article and the information in the article may be outdated. Please look at the time stamp on the story to see when it was last updated.
CHULA VISTA –Kindness week culminated in Chula Vista at Stephen W. Hawking Math and Science Charter School with a kindness tunnel full of high-fives and encouragement as students arrived at school.
"Our students actually wanted to take bullying on so our parents got involved, teachers got involved and they wanted to start off our kindness culture with kindness week," said school Executive Director Carmen Diaz.
Diaz, who wore a side pony tail, in honor of the student initiated crazy hair day which coincided with kindness week, said it all was part of an anti-bullying campaign called the Great Kindness Challenge.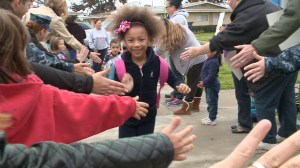 Firefighters, military service members and folks in the community all took part in the event.  The kids also acted out different scenerios and practiced looking out for each other.
"If someone is being bullied like you could stick up for them, or tell the teacher or even tell the bully to stop," said one of the students named Emma. "You don`t have to do big things to be kind.  The littlest thing matters."
It's a mantra educators hope begins this week, but will last a lifetime