This is an archived article and the information in the article may be outdated. Please look at the time stamp on the story to see when it was last updated.
CHULA VISTA, Calif. – Chula Vista police officers were mourning the death of one of their police dogs Monday.
Griffen, a 7-year-old Belgian Malinois, suffered from an undisclosed medical condition and passed away over the weekend, according to Chula Vista police Lt. Eric Thunberg. His handler Officer Chancellor, his handler's family and other members of the department's K9 program were present when he passed.
On Friday, CVPD lost a trusted partner, K9 Griffen. It was a hard day for all of us, especially Griffen's handler and best friend, Officer Chancellor. May you #RIP, Griffen. Thank you for your service to our Department and the city of #ChulaVista. -1180 pic.twitter.com/sdik99O4hN

— Chula Vista Police (@ChulaVistaPD) March 25, 2018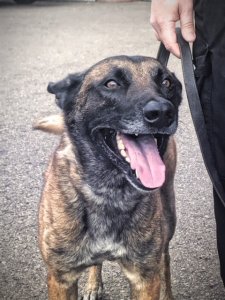 "It is hard to overstate the bond that a K-9 and his handler have when working long hours in dangerous situations.  CVPD's law enforcement family extends deepest sympathies to his partner officer," CVPD stated.
Griffen worked alongside his handler mostly during the night shift. He was well-known in the South Bay community as he was a frequent guest at public events.
"On behalf of all the women and men at the Chula Vista Police Department, Thank You Griffen for your service, you will be missed."