This is an archived article and the information in the article may be outdated. Please look at the time stamp on the story to see when it was last updated.
CHULA VISTA — The Chula Vista Police Department is searching through surveillance video and asking for the public's help today in hopes of solving a crime spree in which the windows of more than 100 vehicles were shattered or damaged.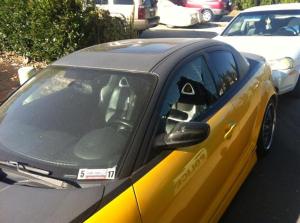 The crimes occurred on the city's west side late Thursday through Sunday morning, said Capt. Gary Wedge of the Chula Vista Police Department.
In one incident, a man was walking on East Prospect Street shortly after Friday at midnight when he was shot in the back with a BB or pellet. He described the vehicle in which the suspect was as an older model green GMC Safari or Chevrolet Astro van. Witnesses to the other events similarly described a similar vehicle, Wedge said.
Police are combing through video and released one in which a possible suspect vehicle leaving the area where vehicles were vandalized, he said.
Anyone with information on the case was asked to call the Chula Vista Police Department at 619-691-5151.