This is an archived article and the information in the article may be outdated. Please look at the time stamp on the story to see when it was last updated.
RAMONA, Calif. — A Chula Vista police motorcycle officer taking part in a training ride on a rural East County road Wednesday afternoon was seriously injured in a three-vehicle accident possibly caused by a newly licensed teenage driver who was texting while driving, the Highway Patrol reported.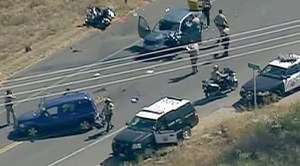 The teen was heading east on State Route 78 in Ramona about 2:30 p.m. when the 2011 Ford Fusion sedan she was driving rear-ended a 2006 Chevrolet HHR whose 61-year-old driver had stopped to make a left turn onto Earlham Street, according to the California Highway Patrol.
The impact pushed the man's station wagon into the intersection, directly in the path of the on-duty officer's westbound motorcycle, CHP public- affairs Officer Brian Pennings said. The resulting collision sent the lawman tumbling over the Chevrolet and crashing through the windshield of the Ford.
Medics airlifted the officer to Palomar Medical Center for treatment of severe trauma, Pennings said. Ground ambulances took the girl and the other motorist to the same Escondido hospital with moderately serious injuries.
Preliminary evidence suggested that the teenager had been texting behind the wheel — a vehicle-code violation — moments before the accident, according to Pennings. She could face charges pending completion of the CHP's investigation in the case, he said.
The crash forced the closure of a stretch of SR-78 near Ramona Community Park into the early evening.