This is an archived article and the information in the article may be outdated. Please look at the time stamp on the story to see when it was last updated.
CHULA VISTA, Calif. — A kindergarten class sent Santa their Christmas wish lists, but one letter didn't make it to the North Pole. Instead, a man working in downtown San Diego stumbled upon it as it literally fell out of the sky.
Terry Hardin was on his way home Tuesday when he spotted a red balloon with a half-torn letter attached slowly descending towards him. Hardin had no clue where the balloon came from, but after reading the note attached to it, he knew he had to find out.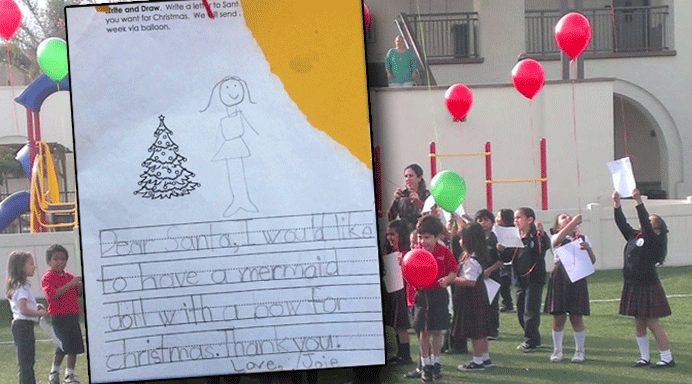 "It was from some young lady, a 5-year-old named Joie," Hardin said.
The note read: "Dear Santa, I would like to have a mermaid doll with a bow for Christmas. Thank you, Love Joie."
Hardin turned to Facebook and with a little help, he was able to track the little girl to Mrs. Garay's kindergarten class at St. Rose of Lima School in Chula Vista.
Joie's classmate Amaya Cespedes told Fox5 that 23 students in the class sent Santa letters by red and green balloons Tuesday morning.
"We had to hold the balloon so it wouldn't pop. We had to hold the picture and then we let it go," said the 5-year-old student.
As all 23 red and green balloons started to drift off, one of them seemed to have some trouble.
"Joie's balloon was the only one that wasn't taking off at the time when we let go of our balloons, so we ripped off the corner of hers to make it lighter, and there it went off into the air," said Garay.
Joie's balloon apparently had more trouble and didn't quite make the full journey to the North Pole, so Terry decided to be Santa's helper and will deliver a mermaid doll to Joie.
Hardin said the balloon was a gift from the heavens for him. His mother, whose name was Joie, passed away just over a year ago.