This is an archived article and the information in the article may be outdated. Please look at the time stamp on the story to see when it was last updated.
SAN DIEGO – A woman with three children in her SUV was allegedly driving under the influence when she slammed head-on into another SUV in the Rancho Bernardo area Monday morning, injuring everyone in both vehicles, police said.
It happened at about 4:30 a.m. on Camino Del Norte near the Interstate 15 onramp, San Diego police Sgt. Tom Sullivan said.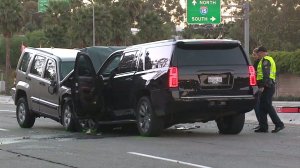 The 29-year-old woman was driving a Chevrolet Suburban, with three children inside, the wrong way — east in the westbound lanes of Camino Del Norte — when she crashed head-on into a Jeep Liberty driven by a 57-year-old man, Officer Dino Delimitros said.
A 10-month-old girl was transported to Rady Children's Hospital with major injuries that were not believed to be life-threatening, Delimitros said.
The two other children in the Chevrolet, an 8-year-old and a 2-year- old, were transported to Palomar Hospital with minor injuries.
The woman, who suffered a broken hip, and the Jeep driver, who had minor injuries, were transported to Palomar Hospital, Delimitros said.
Investigators from the San Diego Police Department's traffic division suspect the woman was driving under the influence of alcohol or drugs, Delimitros said.
It wasn't immediately clear what charges she could face.
The westbound lanes of Camino Del Norte and the I-15 offramp to Camino Del Norte were closed following the crash. Around 8 a.m., the westbound lanes and the offramp were reopened.