This is an archived article and the information in the article may be outdated. Please look at the time stamp on the story to see when it was last updated.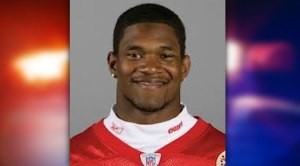 SAN DIEGO – A Kansas City Chiefs player killed himself Saturday after fatally shooting his girlfriend, police said.
Kansas City police said 25-year-old Jovan Belcher shot his 22-year-old girlfriend Kasandra Perkinsm multiple times at an eastside Kansas City home at about 7:40 a.m.
Belcher then drove to Arrowhead Stadium and committed suicide in front of his coach and general manager after thanking them for all they'd done for him, according to police.
Belcher who wore the number 59 was a starting linebacker and was drafted by the Chiefs in 2009.
Authorities did not release a motive for the murder-suicide, but said Belcher and Perkins had been arguing recently. The pair had a 3-month old daughter.
President of the National Family Justice Center Alliance Casey Gwinn said he believed this is a clear case of domestic violence.
"No relationship goes from happy, healthy and functional to murder-suicide overnight. It never happens that way," said Gwinn. "There's always a pattern of abuse."
The pattern often includes verbal, emotional and physical abuse, including strangling incidents, Gwinn said.  There may also be prior threats of suicide and homicide in the relationship.
"As we learn more about this incident" said Gwinn. "We're going to find out that people knew things about the relationship and they didn't do anything about it."
"This is a wake-up call," said Gwinn.  "I hope other people won't make the same mistake."
Victims of domestic violence should call the San Diego Family Justice Center at 866-933-HOPE for more help, Gwinn said.