This is an archived article and the information in the article may be outdated. Please look at the time stamp on the story to see when it was last updated.
NEW YORK – It's just days before the big game and New York is starting to feel like a Super Bowl city.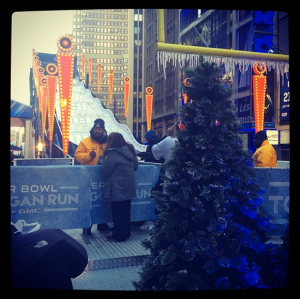 When we got here Sunday, we weren't seeing many people in their team gear. As we get closer to Super Bowl Sunday, that's changing.
Football fans from Seattle and Denver are flying in and making Super Bowl Boulevard their first stop.
Times Square has been transformed into a giant walking mall. There's 13 blocks of free or nearly free pre-Super Bowl fun. People are most excited about taking a picture with the Vince Lombardi Trophy and taking a ride on the Toboggan Run.
The food around here has been amazing. We talked with Iron Chef Marc Forgione about staying at home for the game and cooking for friends. He suggests prepping well in advance so you can enjoy the time without being locked in the kitchen.
As we get closer to Sunday, staying warm for the game is on our minds. I'm realizing I may be a little unprepared for hours in the elements. Double socks are on tap and long underwear.