This is an archived article and the information in the article may be outdated. Please look at the time stamp on the story to see when it was last updated.
MOUNT LAGUNA, Calif. — A wildfire that has scorched at least 4,700 acres and damaged or destroyed dozens of buildings burned out of control in the Mount Laguna area for the fourth consecutive day Tuesday.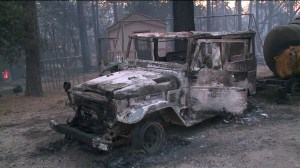 The so-called Chariot Fire broke out just before 1 p.m. Saturday east of Sunrise Highway and about nine miles southeast of Julian, according to Cal Fire, which reported that the blaze was 15 percent contained as of 6:45 a.m. Tuesday.
"The fire has reached Sunrise Highway in the Cottonwood Canyon area," Cal Fire Capt. Mike Mohler said in a statement. "It burned through the Al Bahr Shrine Camp … The fire is now well established on the west side of Sunrise Highway."
Flames have continued to move to the west since Saturday, driven by erratic winds, according to Mohler.
Cal Fire also reported that as of this morning, 1,677 firefighters were fighting the flames from the air and ground, and five crew members have suffered minor injuries since the fire began. Three of them were heat-related and a fourth was a facial cut, Cal Fire Capt. Mike Mohler said. The nature of the fifth injury was unclear.
The official count of damaged or destroyed structures sat at 8 this morning but the number was expected to increase, according to Mohler.
Shriner's International officials told U-T San Diego that the Al Bahr Mount Laguna Shrine Camp lost all but about a dozen of its 116 cabins, which were located along Sunrise Highway, north of Laguna Meadow Road. The camp's dining hall and a lodge, which was built in the 1920s, and the nearby Foster Lodge run by the San Diego chapter of the Sierra Club were also lost, officials said.
Authorities cleared everyone out of 20 residences potentially in the path of the flames Sunday night and from 100 others Monday morning, when the evacuation zone was widened to include a three-mile stretch of Sunrise Highway. The zone as of this morning covered Sunrise Highway from mile marker 17 to 29, Mohler said.
The American Red Cross set up an emergency shelter for the displaced residents and campers at Joan MacQueen Middle School on Tavern Road in Alpine.
A total of 50 firefighter crews assigned to the Chariot Fire were working with 108 fire engines, 12 helicopters, four air tankers, 19 bull dozers and 25 water tenders, according to Cal Fire. Aiding Cal Fire in the effort were the U.S. Forest Service, California State Parks, and the county Fire Authority and the San Diego County Sheriff's Department.