This is an archived article and the information in the article may be outdated. Please look at the time stamp on the story to see when it was last updated.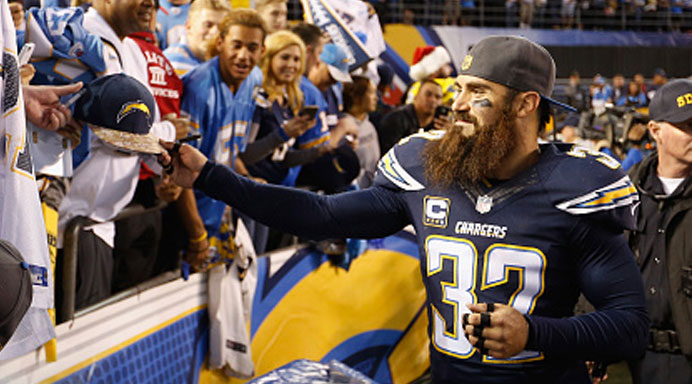 SAN DIEGO – It's probably not the way San Diego Chargers safety Eric Weddle wanted to end the 2015 season with his team.
Weddle, 30, was placed on "reserve-injured" Monday after suffering a groin injury during Thursday night's game against the Oakland Raiders.  Since the Chargers will not make the NFL playoffs, Weddle will miss the team's last game of the season set for Sunday, Jan. 3 against the Denver Broncos.
To add insult to injury, the nine-year veteran also endured a blow to his paycheck after his team fined him $10,000 for staying on the field during a halftime.  At the Chargers last home game of the season, Weddle stood on the field at Qualcomm Stadium to watch his daughter perform with her cheerleading squad, according to his agent.
The team has a mandatory policy for players to be in the locker room at halftime to allow coaches to make adjustment to their formations and more.
What are your thoughts on the Chargers fining Weddle?  Sound off on Jack Chat 
Head coach Mike McCoy confirmed the fine during a news conference Monday.
Weddle has expressed his disconnect with the organization since the end of the 2014 season when they wouldn't extend his contract. He made $7.5 million in base salary this season in the final year of a five-year, $40 million deal.
Weddle finishes his season as the team's leading tackler in the secondary with 75 stops to go along with nine passes defensed.