This is an archived article and the information in the article may be outdated. Please look at the time stamp on the story to see when it was last updated.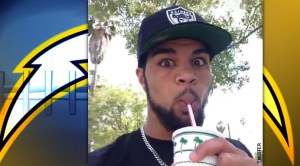 SAN DIEGO – Chargers fans were in a social media frenzy after newly signed rookie Keenan Allen posted a video of himself with an Oakland Raiders cap.
Allen posted a vine video Sunday of himself sipping on an In-n-Out drink while wearing a Raiders hat.
Diehard Chargers fan @LightningReign reached out to the rookie on Twitter questioning his intentions.
"@KAAdeuce1 seriously your wearing a ****ing Raider hat in your vine video??????"
"I know he apologized. Still unexeceptable! Common sense! Burning the hat would be legendary!" @rickywhitlock tweeted.
Allen quickly responded back with an online apology.
"I get it fans!!!! Won't happen again!" Allen tweeted.