This is an archived article and the information in the article may be outdated. Please look at the time stamp on the story to see when it was last updated.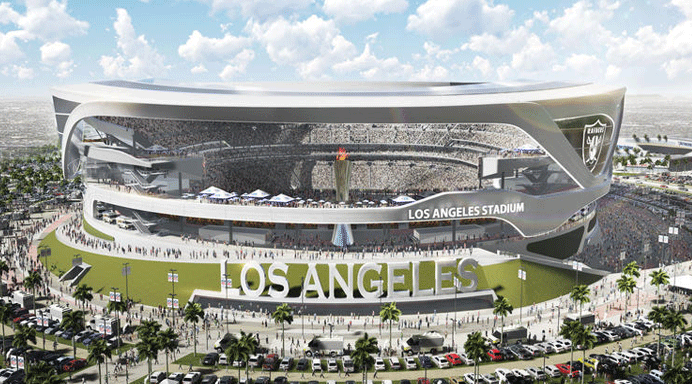 CARSON, Calif. – Two months after unveiling plans and renderings for a stadium in Carson, the San Diego Chargers and Oakland Raiders have completely overhauled their design for the $1.7-billion project.
The Chargers and Raiders presented their concept in New York this week to NFL Commissioner Roger Goodell and the Committee on Los Angeles Opportunities, composed of six team owners, Los Angeles Times reported.
Although the original renderings were created with input from only the Chargers, the new design is the result of almost two months of collaboration between the franchises.
The revised plans show a futuristic open-air venue with a peristyle intentionally reminiscent of the one at the L.A. Memorial Coliseum.
"We wanted the building to be iconic and sleek, like a luxury sports car," said David Manica, president of Manica Architecture, who is designing the stadium. "Very aerodynamic, in motion, flowing lines from every angle."
A signature element of the design is a 115- to 120-foot tower that rises through and extends above the main concourse. It would serve as a pedestal for a cauldron that would change depending on the team. When the Chargers play, simulated lightning bolts would swirl behind glass encasing the tower and, if the team were to score a touchdown, a bolt would shoot out of the top. For Raiders games, a flame would burn in the cauldron in honor of legendary team owner Al Davis.
The plan would not call for the flame to burst up from the tower in the event of a Raiders touchdown.
If the venue were to play host to a Super Bowl, the tower would be transformed into a giant Lombardi Trophy.
Read the full story on LATimes.com.
Download Fox 5 iPhone app  |  Download Fox 5 Android app