This is an archived article and the information in the article may be outdated. Please look at the time stamp on the story to see when it was last updated.
SAN DIEGO – A development company with a proven track record for building stadiums, is proposing alternative ideas to the currently stalled convention center expansion project.
JMI Realty, the mastermind behind Petco Park, has come up with three different plans. All of them on the east side of railroad tracks – east of Petco Park and one, that includes a new stadium for the San Diego Chargers.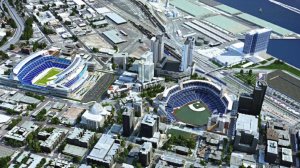 According to a spokesperson for JMIR, former Padres owner John Moores' company, their $1.4 billion plan would connect the bayside center to three campus style facilities by a skywalk and mezzanine, utilizing the land east of Petco Park. The new home of the Chargers would be built on top of the facility.
JMIR started looking into feasibility studies three months ago when they said it became apparent the current expansion plan would not happen due to legal issues with funding.
However, those who have been working on the expansion for years disagree.
"If you build another building across the street, could we use that for meetings? Absolutely!" said Joe Terzi, president and CEO of the San Diego Tourism Authority. "Would it be a good addition? For sure, but not as an alternative to the existing expansion plans."
Terzi said expanding the current space is what will keep our convention industry growing and what the studies show buyers want.
"Hotel occupancy tax in San Diego is expected to be $170 million next year," he said, adding by 2020 it could grow to $250 million with the expansion project. "Think about what the city could do with almost $80 or $90 million."