This is an archived article and the information in the article may be outdated. Please look at the time stamp on the story to see when it was last updated.
SAN DIEGO — The National Football League Thursday gave the Chargers an extra 24 hours to sell 1,300 tickets so that Sunday's contest against the Oakland Raiders can appear on local television screens.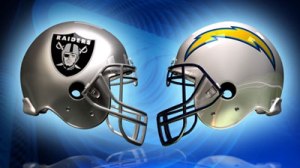 Per NFL rules, games not sold-out by the deadline — 72 hours before kickoff — must be blacked out in the home team's geographic area. However, the league gives extensions when teams are close. The most expensive club level seats at Qualcomm Stadium are exempted from the count.
The Chargers' home loss to Cincinnati last month was the NFL's first blackout of the season. The second will be this Sunday when the Buffalo Bills host the Miami Dolphins.
The Chargers-Raiders game, normally a hot ticket, could be the third. Four Chargers home games were blacked out last year.
Wednesday, the U.S. Federal Communications Commission proposed doing away with its sports blackout rules, which the agency described as "outdated" because of changes in the marketplace. The rules were adopted in 1975 when ticket sales were a sports team's primary source of income.
Eliminating the federal rules would still allow private interests like the league, broadcasters and cable operators to continue the blackout procedure if they wished, according to the FCC.
The NFL opposes the FCC proposal, according to news reports.
According to the NFL, 30 of the 31 most-watched television programs since Labor Day have been pro football games. The exception was the Macy's Thanksgiving Day Parade, which ranked 20th.