This is an archived article and the information in the article may be outdated. Please look at the time stamp on the story to see when it was last updated.
SAN DIEGO — Fans have mixed reactions about the newest San Diego Charger, Manti Te'o.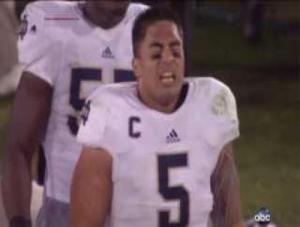 He is an All-American linebacker, but he does come with some baggage.
Te'o made national headlines earlier this year for being at the center of a hoax regarding his deceased girlfriend, Lennay Kekua. It turned out she never existed and the long distance relationship had been concocted online by someone else.
Te'o addressed the hoax in an interview with Katie Couric.
"I think what people don't realize is the same day everybody else found out about the situation," said Te'o. "I found out."
Some fans said the drama isn't deterring them from supporting the newest Charger.
"I think it's a huge pick up," said Kelly Perry, Chargers fan. "I think it's going to be great for our city. I know there's a little bit of controversy that comes along with him but I think all-in-all it's going to be a really good thing."
Other fans said they're not as excited about the controversy.
"I don't really like the drama kind of stuff for the team," said Mike Meza, Chargers fan. "So I think he's kind of bad for that. But if he shows up on the football field I could care less."
Feelings aside, the choice could be a huge boon for the team both on and off the field. Jack Berkman is a marketing expert in San Diego and he believes the move is a "win-win" for the Chargers.
"The Chargers have been going through a lackluster period," said Berkman. "Of not a lot of great pub, not a lot of pub on the East Coast, promises that are a little under delivered. Now we have somebody that has got a very interesting story. However he's also a very gifted football player."
If Berkman's predictions are right Te'o jerseys will be a hot seller this year, but ultimately he said it comes down to making plays.
"He's got to prove that he is a good football player," said Berkman. "Because at the end of the day that's why they drafted him because of his capabilities."