This is an archived article and the information in the article may be outdated. Please look at the time stamp on the story to see when it was last updated.
SAN DIEGO — Chargers Head Coach Mike McCoy responded Monday to questions about hazing, after it was revealed a Miami Dolphins player was suspended and another left the team because of hazing and bullying.
"We don't have hazing here…we don't allow hazing here," said McCoy.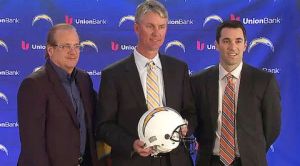 On Sunday, the Dolphins suspended lineman Richie Incognito who allegedly hazed and bullied fellow lineman Jonathan Martin with personal and racial slurs.
"It's tough enough in this league for a young player to make it in the NFL…we weren't allowing shaving heads, that was not allowed here.  I let the players know that from day one.  This is their job – we're a team," McCoy said.
McCoy admitted there are certain rituals rookies do for veterans.  One of them has rookies buying very expensive dinners.
Former Charger Darren Carrington said he never saw anything like the mess in Miami during his eight-year NFL career.
"There are certain rules in the locker room that you handle business in the locker room that no one else has to know about," said Carrington.  "It was always about a fun thing.  It never was personal – never attacking anyone's character or race…anything like that."
Icognito was suspended indefinitely for messages and voicemails that were threatening and they will be part of an investigation launched by the league.
There's no word whether Martin plans to return to the team.