This is an archived article and the information in the article may be outdated. Please look at the time stamp on the story to see when it was last updated.
SAN DIEGO – Chargers fans had more than a 17-10 loss to be disappointed about, Sunday. They could not even watch the game at home.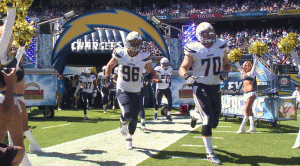 The Chargers are the first NFL team to black out a game this season.
The NFL Blackout policy states teams must sell out a game within 72 hours of kickoff, or the game will not be televised locally.
So the only way to watch the Chargers Bengals game was live inside of Qualcomm Stadium.
Many fans expressed their disappointment.
"It's Thanksgiving weekend," said Charger fan, Patti Dubreuil. "A lot of people can't get to the game, but want to watch the game but they can't. And it's too bad."
Parents of Chargers Safety, #32 Eric Weddle, have tail gated at Qualcomm Stadium since his draft in 2007. Their section, "Weddle Way" is filled with friends they've made over the years. But they feel for family members who missed out on the game.
"My mother-in-law who is 82, could not be here with us," said Eric Weddle's mother, Debbie. "She looks forward to this every Sunday, and now she doesn't get the game today because it's blacked out."
It even affected proud parents who could not DVR the game to re-watch highlights of their son.
"When the game is blacked out, I don't get to tape it, so I can't go home and watch it," said Eric Weddle's father, Steven. "So I have to go put [all his plays] in the back of my memory bank. "
For fans that could not make it inside for the game, they had to make due with listening to the radio, watching other televised games, or just watching the highlights.
"We would be watching the Chargers, but right now, we're watching the 49er game," said Charger fan, Joe Marquez. He was one of the tailgaters from "Weddle Way" who stayed in the lot to hold down the fort.
"I would rather be watching Chargers all day, Chargers all night," said Marquez.
Family and fans were not the only ones taking a hit. The blackout also hurt local businesses.
"We definitely see a huge hit in sales," said Justin Hatfield, restaurant manager of Oggi's Pizza and Brewing Company, in Mission Valley. "On a typical game day, it's a packed house. It's a great atmosphere. We're busy all day long. And when it's not, it's kind of just a regular Sunday. Unfortunately today, it almost resembles when the Chargers are on a Bye or Away."
Win or lose, some upset fans said they just want the NFL to reconsider its Blackout Policy.
"How is that strategy working for them? That's what I'd ask," said Marquez.
Chargers face the Giants at home next Sunday.
Unless those tickets are sold out 72 hours prior, that game will also be blacked out.