This is an archived article and the information in the article may be outdated. Please look at the time stamp on the story to see when it was last updated.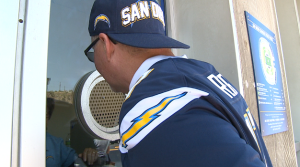 SAN DIEGO – If you want to catch the Chargers in action this season, now you can. Regular season single-game home tickets went on sale  Monday, but they're going to cost you.
The Chargers did not raise ticket prices and some season ticket prices dropped, but the cost may be too much for some fans.  The Chargers organization is one of five teams in the league that didn't raise prices, but fans are still getting hit hard in the wallet.
The cheapest single game seats FOX 5 could find for the home opener were almost $60.
If you add in parking, it would cost a family of four $269.15 just to get into the game and that doesn't include food or drink.
"I'm out here picking up Charger tickets for the home opener against Houston," life-long Charger fan Robert Wixey said. "I'm stoked!"
"I'm trying to watch my money, but all I'm doing is watch it run out of the door by buying tickets," Wixey said.
Some fans said it's all about perspective. It would cost about $440 to do a similar family outing in San Francisco.
Of course, the 49ers went to the Super Bowl last year and the Chargers haven't seen the playoffs in three seasons.
"They're going to have to win to get the fans emotionally back," The Mighty 1090 Radio Host Lee "Hackshaw" Hamilton said.
Hamilton believes there is a simple solution for boosting ticket sales and avoiding blackouts.
"It's up to the Chargers to put a better product on the field," Hamilton said. "No other thing is going to change it.  They're not going to cut the 50-yard line ticket price. They've got to win football games to lure the fans back."