This is an archived article and the information in the article may be outdated. Please look at the time stamp on the story to see when it was last updated.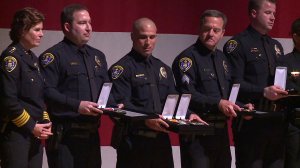 SAN DIEGO -- The San Diego Police Department held its employee recognition ceremony Thursday.
The department honored an officer who saved the life of fellow Officer Wade Irwin last July, the homicide unit and crime lab for catching a serial killer who targeted the homeless community and the wellness unit that helped create a national model for employee wellness best practices.
The ceremony was held at 2 p.m. at Bob Hope Theater at MCAS Miramar.