This is an archived article and the information in the article may be outdated. Please look at the time stamp on the story to see when it was last updated.
SAN DIEGO – The chief executive officer of the non-profit group planning the Balboa Park's 100th anniversary celebration announced Monday he was stepping down at the end of the month, according to a member of the group.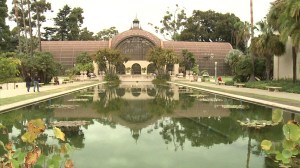 Mike McDowell had headed Balboa Park Celebration, Inc. for about a year, and intended to return to his position as chief executive officer of the San Diego Lodging Industry Association, said Gerry Braun, communications director for the Balboa Park group. He had been working for the non-profit as "an executive on loan," Braun said.
Braun credited McDowell for "building the infrastructure that will endure the 2015 Centennial Celebration is a world-class event."
Members of Balboa Park Celebration, Inc. have appointed a committee to search for his replacement, Braun said. Braun and Board Member Patti Roscoe planned to share the chief executive officer duties until a replacement was named.
Balboa Park came into being as San Diego hostede the Panama-California Exposition in 1915. In the years since, it has grown up with museums, the San Diego Zoo and a golf course, among other public amenities.
City and tourism officials plan a full year of centennial activities in 2015.