This is an archived article and the information in the article may be outdated. Please look at the time stamp on the story to see when it was last updated.
SAN DIEGO — The new Central Library is booked – quite literally.  The nine story building that was 30 years in the making is now a downtown hotspot for events like weddings, parties and high school dances.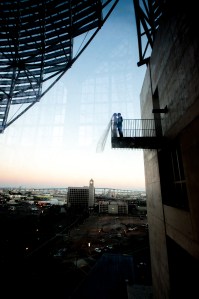 "We've been hosting a variety of events," said Special Events Librarian Erwin Magbanua. "We've had bar mitzvahs, bat mitzvahs, a lot of weddings, galas, fundraisers, dances and proms."
Event spaces include the auditorium, lobby, conference center, Helen Price Reading Room, dome terrace, art gallery and Shiley Special Events Suite.  Rental fees range from $29 an hour to $550 an hour depending on the space."
"When people walk in and see the space for the first time, it's (gasp), it's just that excitement and, 'I can't believe this is such a beautiful gorgeous space,'" said Magbanua of the Special Events Suite.
Marc'enna Wilson and Derrick Davenport chose the Shiley Special Events Suite for their recent wedding reception.
"It's beautiful," Wilson said of the views. "The windows and everything it's really beautiful. You can see the whole city and it's awesome."
Pelican's Perch is a popular place for wedding portraits.  It's a small landing nine stories up with nothing below but air.
Those that prefer the ground level have used it for proposals and other special occasions and they frequently incorporate books into the table arrangements.
"People are really excited about this being a library, a place of learning and where you can really just discover your next chapter," said Magbanua.
People interested in scheduling an event at the downtown Central Library and seeing the pricing information can go to their website.
This slideshow requires JavaScript.