This is an archived article and the information in the article may be outdated. Please look at the time stamp on the story to see when it was last updated.
LOS ANGELES — A mountain lion padded slowly through the residential streets of the Hollywood Hills last week — and the animal's calm stride was caught on surveillance video.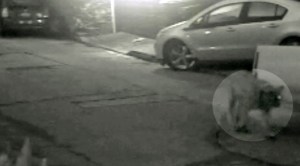 Two camera angles show the puma walking down the roadway alongside parked cars on March 5,  just before dawn, according to the time stamp on the videos.
The mountain lion was spotted from a home at Hollyridge Drive and Graciosa Drive, according to Derek Althen, whose friend's cameras captured the images.
The area, which is filled with curving streets lined with homes, is about  one-half mile from the edge of Griffith Park's Bronson Canyon, and about 1 1/2 miles directly south of the Hollywood sign.
After years of rumors about the existence of a mountain lion living within 6 1/2-square-mile Griffith Park, one named P-22 was first documented with photographic evidence in February 2012. The animal is believed to be the most urban mountain lion in Southern California, the Los Angeles Times reported last fall.
The male cougar's image was also captured a year ago in high-quality photos that were published in National Geographic last December.
P-22 is believed to have ventured into Griffith Park from about 20 miles to the west in the Santa Monica Mountains, National Park Service wildlife biologists told the Times.
It was not clear if the lion caught on the Hollywood Hills surveillance video was P-22.
Read more at KTLA.com.