This is an archived article and the information in the article may be outdated. Please look at the time stamp on the story to see when it was last updated.
SAN DIEGO – Disturbing video caught by the newly installed "Seal Cam" at the La Jolla Children's Pool showed two women harassing the marine animals in the middle of the night.
The high-definition camera has only been installed since January, but police said they're received a record number of complaints of people seen disturbing the seals, but nothing as blatant as the incident caught on video Tuesday night.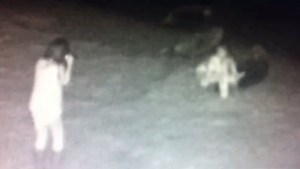 "Knowing that their pregnant and chasing them into water and doing gestures and sitting on them," said Dr. Jane Reldan, one of the people who lobbied to have the "Seal Cam" installed. "I think it's a horror show."
The seals have become part of La Jolla's culture and charm. People coming from all over the world to see them.
"This is a unique experience and its really something that people should take advantage of," one tourist told Fox 5.
The fate of the harbor seals has not been without controversy, after numerous battles over the years about how to co-exist with the seals, today there's a city ordinance that designates this beach shared use.
"There a ranger present now sunrise to sunset," said Dr Reldan, thanking Mayor Filner for his support of the 152 rope of the docent program.
The seals are also protected under the Federal Marine Mammal Protection Act, but enforcement is nearly impossible.
"I'd like to see enforcement by the rangers and by police and lifeguards," said Reldan.
We are seeing a higher number of seals during February and March because it's the birthing season.  According to a city ordinance, its illegal to disturb the seals in any way. There is a rope dividing the beach, but it is only an advisory recommendation of a safe distance… it is not the law.
Which mean technically anyone can cross the rope.   And, the rope is only up from December 15 thru May, during peak birthing months.
"You're allowed to be on the seaward side of the rope, but if you disturb the seals, which by the rangers definition is anything that gets the seal to change its behavior from what its doing," said Reldan.
The guideline rope is about 150 feet, but when the females go into labor they move away from the seaward side closer to people, and that says Reldan is the problem, then people start to act like they are in a petting zoo.
"Unfortunately, the public has move closer to the pregnant seal because  they don't have a guideline," said Reldan.
Since the incident, San Diego police have been patrolling around the clock.