This is an archived article and the information in the article may be outdated. Please look at the time stamp on the story to see when it was last updated.
SAN DIEGO — Cathedral Catholic senior linebacker Xavier Ulutu plays middle linebacker, and therefore, does a lot of hitting, and he said he feels much better about it now that he has a new helmet
"It's special," Ulutu said. "Nobody else has this. Nobody else is doing this. We're the only school being involved with this study. I'm proud and I'm happy we're apart of this as a team."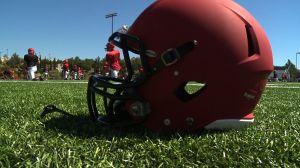 Football-helmet manufacturer Riddell selected Cathedral Catholic as the first high school program in the country to use the new Insite helmet. On the outside, the helmet looks the same as any other Riddell helmet. On the inside, it has paper-thin sensors that monitor the frequency and magnitude of hits.
'The hits areas is in the back area, the side area, a front pad, and two side pads that are all attached to the sensor," said Tom Shaw of Riddell.
If a player takes, or makes, a big hit, a sensor in the helmet sends a message to a hand-held monitor so the team trainer can track a player's activity.
"If an athlete comes to me and has symptoms of a concussion, I can look back at the hand-held device attached to their helmets and I can look to see if there was an incident where there was a large impact," said CCHS head trainer Tara Hall. "That's how I have used at this point."
Hall said that four hits have registered during practice since the helmets went active on August 9.
Cathedral Catholic purchased one for each of its varsity starters, 24 in all, for about $200 apiece. Coach Sean Doyle said these helmets don't replace the coaching and teaching of proper hitting technique, but will provide information.
"I think it will be real interesting to see what it's like when we compare offensive line – defensive line, linebackers-running backs, versus defensive backs-wideouts," Doyle said. "Is there such a variance in what registers? What hits occurring? We'll see after the year's up."
"Honestly, I feel a little safer," said CCHS senior offensive guard Aaron Mitchel.  "Knowing that, okay, one game he's had five hits to the head that could cause their baseline of concussion, or that game he's had one. But then again it's the nature of the sport. The position I play, I'm going to get hit in the head multiple times during the game."
Cathedral Catholic puts the helmets to the test in a real game Friday when the Dons, winners of eight San Diego Section titles, opens the season at home against Jordan High School from Sandy, Utah.