This is an archived article and the information in the article may be outdated. Please look at the time stamp on the story to see when it was last updated.
SAN DIEGO — Cathedral Catholic boys' tennis captain Matt Rosi gave his double's partner, Trevor Brown, a nickname: Trevor "How to Save a Life" Brown.
Brown earned that nickname by actually saving a life. It happened on April 10th.
"I was leaving El Polo Loco at the Highlands (Del Mar) and my mom sees this guy and she was like, 'That doesn't look good,'" Brown said. "She points over and I see this guy laying on the ground and his arms are sprawled on the asphalt and this woman is on her phone and she is doing chest compressions with one hand."
"He acted quickly and was very sure of what he could do," Trevor's mom Dyana said. "He threw me his phone at me and said, 'Call 9-1-1,' jumped out of the car and went to work."
"I got up next to him and h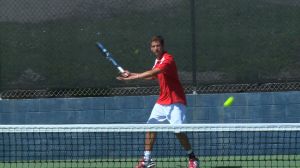 e wasn't breathing," Brown said. "His face was blue, and I couldn't find a pulse, so I started doing chest compressions when I saw that."
Brown learned CPR only this spring, when he took a class called Athletes Saving Athletes where high school student-athletes learn how to recognize signs and symptoms of life-threatening injuries and medical conditions
Brown, who says he wants to become a pediatrician one day, was chosen to attend the class by his coach Ray Marquez.
"He called me right after it happened," Marquez said. "He said, 'Coach, thanks for sending me to the program. Guess what? I just used it. I did CPR on a guy.'"
In an interesting twist, when Brown jumped into action he had on the t-shirt that he received on the day he completed the Athletes Saving Athletes program. Which made the co-founder Advocate for Injured Athletes very proud.
"It's awesome," said Thomas Mallon.
Mallon suffered a broken neck in his final lacrosse game as a senior at Santa Fe Christian High School in 2009. He and his mother, Beth, started Advocates for Injured Athletes later that year and added the Athletes Saving Athletes program in 2012. Now a senior at USD, Mallon says they hoped their program would help save lives.
"Our goal was on the field to teach these kids to save their teammates lives," Mallon said. "But when we train them, that's more kids out in real life too, and we see that he saved a man's life. Not only can they save a student-athlete's life, they can save anyone on the street."
Brown says he has not spoken with the man he helped, but he's happy he found himself in the right place at the right time.