This is an archived article and the information in the article may be outdated. Please look at the time stamp on the story to see when it was last updated.
SANTEE, Calif. – A cat probably saw several of its nine lives pass before its eyes during the eight mile drive, county officials said.
A woman driving in the Mission Gorge area Wednesday was flagged down by another driver.  She pulled over and discovered she had been driving with her neighbor's cat stuck in her front bumper, according to San Diego County Animal Services.  The cat was hanging out of the front end of the vehicle – just inches from the asphalt.
"[The driver] had no idea the animal had crawled inside the front end of her car," animal control officers said. "Bystanders took a crowbar to the bumper to free the cat."
The 5-year-old lynx point Siamese was rescued from the bumper and taken to a veterinarian for evaluation.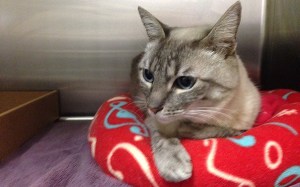 "Amazingly, the cat is fine!" animal control officials posted. "One day later, the cat appears to be just fine other than still acting a bit nervous."
A microchip helped officers reunite the cat with the woman's next door neighbor on Friday.
"If you park your car outside, tap the hood of the car or tap your horn lightly to alert any animals that might be looking for warmth from your car's engine," said County Animal Services Deputy Director Daniel DeSousa. "Tapping will scare them and they'll run off."