This is an archived article and the information in the article may be outdated. Please look at the time stamp on the story to see when it was last updated.
CORONADO, Calif. — The USS Nimitz pulled into Naval Air Station North Island Thursday morning, bringing dozens of Navy air crews home for the holidays after a nearly 9-month deployment.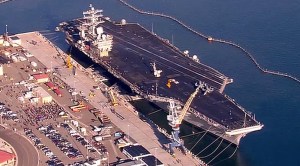 Members of Carrier Air Wing 11 and Destroyer Squadron 23 will disembark from the carrier, which is the flagship for the Nimitz Carrier Strike Group.
After a short stay in San Diego Bay, the carrier will continue on to its homeport of Everett, Wash.